10 April 2017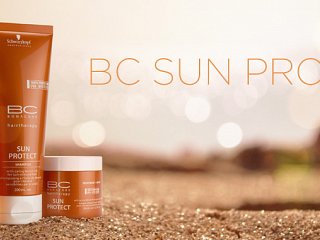 Take care of your hair like you would your skin, says Artistic Director Dean Brindley…
For many of you lucky people, jetting off to warmer climates isn't just for the summer. The Easter holidays are upon us, and lots of you are heading off to the sun. And after a very brief spell of British heat last weekend – Sunday turned out to be the hottest day of 2017 – it got me thinking, how many people actually protect their from the elements?
We need to look at our hair differently when it comes to the sun. Think of it like your skin. It needs to be cleansed, moisturised and looked after. You wouldn't got out in the sun without a sunscreen on your skin, so you shouldn't go out without some protection for your hair and to stop your from burning under all those UV rays. There are a huge range of professional sun care products for your hair out there.
So it's time to take care of your hair while you're in this glorious sunshine.
I recommend Schwarzkopf Professional sun protect range, Bonacure. There's shimmer oil, spray conditioner, a treatment and shampoo to keep your tresses in tip-top condition.
Come and see us in our Cheltenham and Gloucester salons and we'll prescribe the perfect products for you, whenever you're heading off to the sun. And if you fancy a change of colour, or style, for your holiday, we're here to make it happen.
Visit www.creamhair.co.uk to see our latest collections, or call us on 01242 579609 or 01452 305926 to book a no-obligation consultation.
Tweet