03 July 2017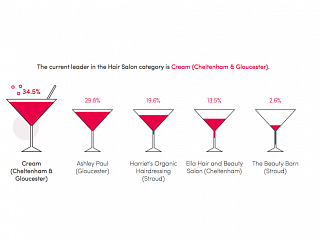 Muddy Stilettos is a great blog, an urban guide to the countryside – basically a little black book of everything that's cool about Gloucestershire and the Cotswolds.
From amazing restaurants to hip hotels, fantastic art galleries and theatres, the best bars and fashion, beauty and travel, Muddy Stilettos has become a bit of a bible, which is why we're so proud to be part of it.
The Awards, which took place in June, celebrated the very best businesses in lots of categories, from bookshops to beauty salons, farm shops to chic country pubs. We were up against five great Gloucestershire businesses in the Best Hair Salon category – Ashley Paul in Gloucester; Harriet's Organic Hairdressing and The Beauty Barn in Stroud and Cheltenham's Ella Hair and Beauty Salon, all worthy winners.
So it was a nail-biting morning for our teams in our Cheltenham and Gloucester salons as the voting deadline loomed. At times it was pretty neck-and-neck, but you voted in your hundreds for us, and by the time entries closed, we were in the lead with a massive 34.5% of the vote.
Thanks to all of you who clicked on the links we posted on our social media sites. We were so, so made up to win – and the next time you come into our salons, you'll be able to see our shiny new trophies. We'll add them to the cabinets of awards we've already won, including two-times Wales & West Hairdresser of the Year in the British Hairdressing Awards.
At Cream, we're continually striving to stay ahead of the pack with cutting-edge techniques in our own in-house training academy, plus lots of national magazine cover work, conferences and overseas work in places like New York and India.
But we couldn't do it without you, our fantastic clients. Thanks for keeping us at the top of our game. You're amazing.
Tweet