26 June 2017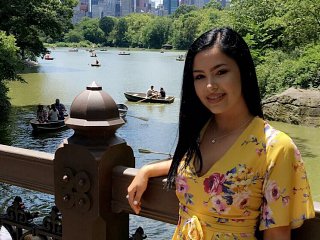 I've just started an adventurous journey across New York city, exploring all aspects of life in the Big Apple as well as visiting the must-see sights such as Broadway, Times Square and Central Park – and every other opportunity that crossed my path.
I wanted to share a small snippet regarding the hair and fashion trends that caught my eye during my trip. After all…..New York is one of the global fashion capitals of the 20th century.
Hot summer, hot hair…
Fifth Avenue isn't just a great place for shopping all the big name brands such as Chanel, Gucci and Tiffany, but it was a fantastic place to pinpoint some up-and-coming hairstyles.
The gents were clean shaven with well-maintained. longer hair styles – not a skin fade in sight.
It seems we've outgrown the fade and these longer natural styles are back. The girls were perfectly groomed and polished with super-sleek hairstyles and a deep centre parting, plus a lot of low buns and chignons – a style which segues straight from the office to the cocktail party.
Drinking an iced chai latte from the local coffee bar, I took a minute to admire the contrast to the hairstyles I'd previously seen on Fifth Avenue. They were pretty simplistic, but the finish on the hair was different; embracing natural hair texture with the dropped-out curls look. Hair was effortlessly glamourous and very casual and I did even notice a few micro braids appearing every now and again.
To achieve some of the New York looks, I've put together a list of products to help…
Osis+ Damped
A wet-look pompade to create a super-slick hairstyle with added shine – it helps to grip all those baby hairs in place
Glamination Air-dry Salt Mist
A lightweight spray full of coconut oil and sea salt to create a tousled texture, it also has added bonus of UV protection. Great for embracing a natural hair texture with a touchable finish.
Osis+ Sparkler
My favourite and my go-to at every opportunity! Sparkler is a shine spray that instantly adds mirror-like shine to the hair, controls flyaway frizz, detangles and lightly conditions. It's a brilliant all round product.
Fashion frenzy
Strolling through Central Park with an ice cream, I was surrounded by floral prints and all occasion dresses. It's a casual, cool outfit paired with a statement bag and oversized sunglasses – perfect.
In the heat of summer in downtown Soho I noticed fiery coppers and Moroccan teds creeping into fashion. We don't usually see an appearance from these colours until mid-autumn. It was a very urban and unique part of the city, and fashion trends were above and beyond basic. Street styles in Soho would be anything from oversized trousers to mesh tops – it was very individual to say the least.
There was definitely a Sex and the City vibe around the Wall Street financial district, with New Yorkers wearing satin shirts, wide-leg trousers and heels as tall as the building surrounding the city. And they were all neutrals – peaches and cream.
Holly's handbag essentials
There were so many sights to see and places to explore, my week in the Big Apple was very fast paced with minimal time for hair styling. My handbag essentials for on the spot glamourous hair are as follows…
Session Label Powder Cloud
My go-to for instant volume, texture and refreshment in one pump of super light powder mist which smells great too!
Session Label Super Dry Fix
For maximum shape holding – great for flyaway hair in windy weather.
Tweet