19 June 2017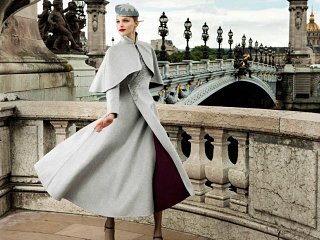 As I did my daily commute to work today, I came across an article about the Chinese airline Hainan Airlines.
The marketing people have just released images of their new cabin crew uniform – which is basically a haute couture collection that looks like it's come straight from the Paris Fashion Week runway.
It's the biggest civilian-run transport company in the world and the fourth biggest airline in terms of fleet size in China, so it's not surprising they're on it.
But it got me thinking, do people make an effort to look good at work? Or is it a case of throwing on anything just to get out of the door on time in the morning? It's been a long – and, I'm going – debate among people I know whether it's good, bad, important, unimportant etc etc.
So I've been looking into some of the best hair creations to wear in the office.
1. Simple swept braid
Pull your hair to one side and simply loosely braid it and secure with a hair band. It's the perfect 'I've made an effort but I'm not on a night out' look.
2. Low chignon
Divide your hair into three sections – one in the centre at the back of your head and one behind each ear. Take a 5cm section underneath the centre section and backcomb, then do the same to the top section. Pull them into a ponytail and tease it out to give it volume. Grab the ends of your ponytail and twist it around, forming a chignon, pinning as you go. Split the right section into three, twist them towards the back and pin. Repeat with the left side.
3. Messy bun
First, gather your hair into a high ponytail, then twist it to create a loose bun by wrapping the hair around itself. Secure with a band and pins, before pulling out sections to loosen. Pretty, and not try-hard.
4. High show pony
First, blow dry hair as smoothly as possible, then use styling irons to finish the job – but be careful not to make it poker-straight, to allow for subtle, textured movement. Add plenty of cream polish to tame any fly-aways and add depth before you plait, twist or pony. Again, finish with quality hair and shine sprays. This says you mean business.
5. Easy wave
Taking a good styling wand, pick up even horizontal sections around the head, wrapping the hair in the same direction around the curling tong. Brush out the hair – you can be quite ruthless – then use a good quality serum to tame the hair and mould into shape. It's a great day-to-night look.
Tweet