29 May 2017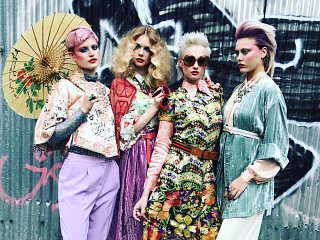 Last week, our very own Will Eagles was lucky enough to have the chance to assist the great Tyler Johnston at the Schwarzkopf ProfessionalEuropean tour at the Art Deco theatre The Troxy. Here's what he had to say about it…
A career highlight has well and truly been added to my list. Schwarzkopf Professional's London production was amazing and I was so proud to be part of it. The ever-evolving, uber cool, fashion forward hair brand played host to their Essential Looks European Showcase, held at The Troxy in east London.
The Troxy is a beautiful Art Deco theatre and music venue and was the perfect setting for the esteemed audience of nearly 2,000 industry greats and international guests there to witness an incredible evening of hair.
I was part of the Schwarzkopf ambassadorial artistic team, helping Schwarzkopf's global director Tyler Johnston, global colour queen Lesley Jennison and American celebrity hair guru Kim Vo. Our day started at 6am sharp with a briefing from Tyler who single-handedly creates every image for Schwarzkopf – each and every one more on-trend and more cutting-edge than the last.
Our brief was to help recreate the iconic Essential Looks from this season: Colorama, Opulence, Beat Icon and Hollywood BlondMe. These new incredible collections of cuts, colors and styling will set the trend for all we hairdressers for 2017 and beyond, so the pressure was on. With a tight schedule, more than 50 models and a huge production team we set to work creating amazing looks in preparation for the evening show. With make-up, full dress reherasals, choreography and the hairdressing press all backstage with us it really was a hive of chaotic, creative lunacy that I loved every single second of
With showtime fast approaching, the audience took their seats. And with the show being broadcast live across social media channels, the atmosphere was electric. Watching it all unfold on the monitors backstage, it was an amazing show and a memory I'll never forget. It was a true career highlight that I was honoured to be a part of.
Cream's Artistic Director Dean Brindley was on the other side, taking in the spectacular show. Here's what he had to say.
It all kicked off with Shirley Bassey's Big Spender, accompanied by go go dancers who set the scene for a big night of entertainment. First up were the amazing hair artists X-presion Creativos with their Pixel and Skyline colour work, which was just incredible. Check out their Instagram at @xpresioncreativos.
They were followed by Hooker & Young and then session guru and global hair icon John Vial from Salon Sloane. Then there was a Schwarzkopf BlondMe battle between Lesley Jennison and celeb stylist Kim Vo. They created some stunning blondes from rosé to icy silver. And then it was the main man Tyler with a creation of the epic new Schwarzkopf Essential Looks collection.
It's well worth checking out.
After the the incredible show, it was time for one of Schwarzkopf's famous after-parties. But being a true gent, I couldn't possibly talk about that…..It was a great night with truly inspirational hair work and a great night had by Will and I.
Tweet