19 December 2016 by Dean Brindley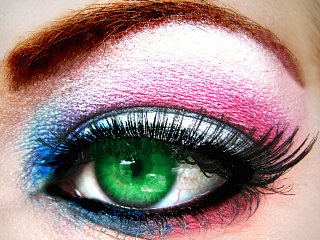 Make-up take-up
The world is obsessed with make-up and the way we use it. There's no limit to the looks you can achieve with any kind of make-up, whether you're a MAC or a Bobbi Brown girl, or prefer High Street brands. I've seen all sorts of different techniques this year, some of which may surprise you.
Popular trends are, as ever, coming from Instagram tutorial videos – many of which go viral. A couple of favourites I've seen use lipgloss as an eyeshadow base to make the colour more prominent and stand out. For a much longer-lasting eye look, simply apply the lipgloss to the base of the eyelid then blend in with a similar colour eyeshadow.
Another trend which seems to have swept social media completely is contouring. Everyone wants to try it. There have been thousands of tutorials from make up artists across the globe, which prove you can contour just about anything.
And it's not just your face – you can contour your body too.
Why not get yourself a six-pack with a £40 contouring kit from MAC? It beats the effort of going to the gym – and it's much cheaper than a monthly membership!
This year's trends have all been pointing towards that perfect Kylie Jenner and Kim Kardashian look that lots of girls aspire to.
Here at Cream, we wish all of our clients and friends a beautiful Christmas and a very, very happy and prosperous New Year.
Christmas and New Year appointments:
We have limited cut and finish appointments on Christmas Eve and New Year's Eve. To book, call 01242 579609 or visit www.creamhair.co.uk
Opening hours for our Cheltenham and Gloucester salons:
Christmas Eve – 8.30am-4pm
Christmas Day, Boxing Day, December 27 & 28 – CLOSED
December 29 – 9am-7.30pm
December 30 – 9am-6.30pm
New Year's Eve – 8.30am-4pm
January 1 & 2 – CLOSED
January 3 – Gloucester salon open for appointment bookings only
January 4 – open as normal
Tweet