01 May 2017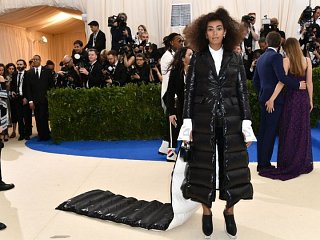 So we've just seen the Metropolitan Museum of Art host the annual Met Gala in New York. It's a star-studded benefit, the most lavish event in the east coast social calendar, which draws anyone who is anyone. Except Jay Z, but that's another story.
The Met Gala is the perfect place to see the latest in fashion, hair, beauty and nail trends. This time we had Cara Delevingne with silver-painted hair to match her silver Chanel suit, Katy Perry rocking her new blonde crop and wearing a very elaborate Galliano gown, and Donatella Versace sporting the new yellow hair trend. As for Rhianna…her take on an 18th century punk was quite something.
And Maggie Gyllenhaal sported a crystal-encrusted, all-over-sequin tabard with matching trousers in bottle green and purple. No, us neither.
Anyway, they were just a few of the show-stoppers.
So why not take a look at the highlights of the event for inspiration for your next visit to the salon? Here's Vogue's take on the best-dressed of 2017.
But the meantime, head to www.creamhair.co.uk for a gallery of our latest collections, from classic bridal looks to Hollywood glamour, the androgynous Beat Icon and even Donatella's bonkers yellow locks.
Yes, it's really a thing.
Tweet