27 March 2017 by Dean Brindley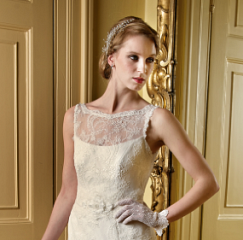 It's going to be the summer of accessorising our locks. Whether it's a ring braid or stacked barrettes, I think there will be a lot of variations going on. But one thing's for sure… the floral crown of last spring/summer is about to be replaced with the tiara.
Yes, you heard that right. The tiara.
A whole bunch of celebs have been spotted wearing a tiara of late. Rita Ora, Maisie Williams and Janelle Monae all rocked theirs at The Oscars.
So do check out your High Street stores or high-end designers for the one that catches your eye.
But one word of warning. Do remember that butterfly clip belongs at home for those lazy days in front of the TV. A bit like slippers. And you wouldn't wear those in public, would you?
PS Talking of tiaras, are you getting married this summer? Cream's bridal packages range from stunning put-ups to beautiful blow-dries for you and all of your wedding party. Call 01242 579609 or 01452 305925 to ask about our wedding hair services, or visit www.creamhair.co.uk for full details.
Image: Samantha gown, part of the Anniversary Collection. Chanticleer, Regent Street, Cheltenham www.chanticleerbrides.co.uk
Tweet